Welcome Home!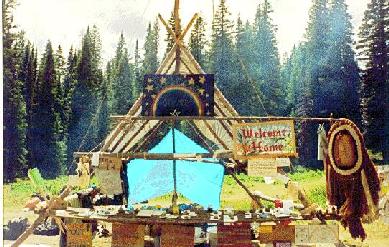 When the earth is ravaged and the animals are dying, a new tribe of people shall come unto the earth from many colors, classes, creeds, and who by their actions and deeds shall make the earth green again. They will be known as the warriors of the Rainbow -- Old Native American Prophecy


---

If this site is too slow or down, you can now access one of the mirror sites that may have a closer or faster connection to you.

---

It is longstanding Rainbow Family consensus that nobody has ever, or ever will represent the Rainbow Family. This is an unofficial collection of information on the Rainbow Family and the Rainbow Gatherings, and in no way should anyone who works on this web site be considered to be representing the Rainbow Family. For the rest of the disclaimer, Go to the Bottom.
Since various Law Enforcement agencies and the Forest Service can't seem to understand the preceeding paragraph, go to this link for a more verbose and simplified version especially for you.
---
What is the Rainbow Family ?
Some say we're the largest non-organization of non-members in the world. We have no leaders, and no organization. To be honest, the Rainbow Family means different things to different people. I think it's safe to say we're into intentional community building, non-violence, and alternative lifestyles. We also believe that Peace and Love are a great thing, and there isn't enough of that in this world. Many of our traditions are based on Native American traditions, and we have a strong orientation to take care of the the Earth. We gather in the National Forests yearly to pray for peace on this planet. For another viewpoint, Try Carla's much better explanation.
More Information
The 2023 Rainbow Family of Living Light world peace and healing gathering will take place July 1-7 2023, White Mountain National Forest in New Hampshire. More information and directions are here

The US Forest Service has published the final regulations to make Rainbow Gatherings Illegal! This page has many legal documents from the various court cases we've been involved in over the years, plus analyses.
This page has all the event calendars, plus lists of regional potlucks, Lightlines, and other events that would be of interest to Rainbows.
This is a growing collection of historical documents on the Rainbow Family. Included are various stories on our origins, and a collection of newspaper and magazine articles, and the Rainbow Photo Gallery.
This is a collection of documents and links about the Rainbow Family. Included are old Howdy Folks, regional newsletters, mini-manuals, and archives of the newsgroup.
This section is more geared towards Focalizers. We don't have leaders in the Rainbow Family, but we do have folks that help us to focus on what we as individuals need to do. This is mostly old Howdy Folks, council minutes, and notes on the consensus process.
This is a collection of links to other Rainbow Family oriented web sites. Like this one, none of these web sites represents the Rainbow Family. Many of these web sites are regional in nature, so they are better places to check for local potlucks or gatherings.
This is a collection of documents on the alternate technologies used at Rainbow Gathering, from water filter, latrine digging, kitchen building, or camp security. This is a new section, so I expect it to get larger weekly.
This is a collection of folks from the newsgroup and mailing list that have their own web sites.
This is a page of links to other interesting sites for counter-cultural types.
This section is devoted to all those clans, camps, kitchens, or whatever feel the need to identify themselves as family.
This is a collection of mp3's recorded at various Rainbow Gatherings.
This is a collection of Rainbow Songs posted over the many years ago on AGR, and loving reformatted by several folks.

Rainbow Newsgroup, alt.gathering.rainbow (aka AGR)

There is a discussion list with an email<->news gateway that has many people subscribed to it. Recently do to various reasons, there have been alot of changes going on amongst web based newsreaders. Remarq no longer exists, and recently DejaNews has been bought out by Google, where you can do a search still. Two other web based newsreaders that have access are NewsOne and Usenet Replayer (which has a really bizarre GUI). If you have a newsfeed, (ask your ISP) you can access AGR by just subscribing to the newsgroup alt.gathering.rainbow. You can also switch to the email side of the gateway, directions on subscribing are on the Access FAQ.
To submit pictures,articles, or anything else of interest, either email to me, or ftp stuff to welcomehome.org and put it in the incoming directory and then email me a description. We hope to keep this WelcomeHome Page continually evolving.
---
This is Not an offical document of any kind by the Rainbow Family. This Home Page is my own creation, and as such only represents my own ideas. In no way does this mean I or anyone else here at welcomehome.org represent the Rainbow Family, regardless of what the Family wingnuts say.

To get to my Home Page, click here.